Robotic workstations
Industrial robots are popular in automatization of production process, and they can take care of control of production machines and each individual production process. Frequently the robots are used at technological junctions (production line junctions) where they can replace non-flexible conveyor, slower technologies or operator activity (manual labor).
Other options of application of robots are-screw fastening, lubrication, gluing, testing.
COBOTS became very popular in industrial applications recently, and they fulfil demanding health and safety standards for production operations and operational performance.
COBOTS have been designed and build for working narrowly to human operator.
Most common COBOT applications in production:
robotization of material storing into boxes
filling production line or pallets with material by robot-cobot.
assembly robotization
screw fastening robot
glue dispensing robot
lubrication or fat dispensing robot
test or check procedures done by robot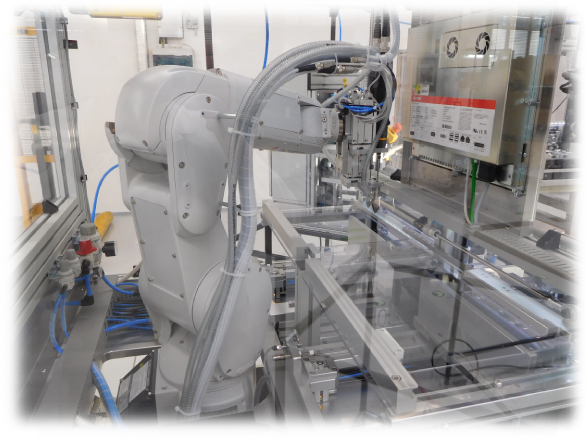 Lubrication and fat dispensing robot
Station equipped by Mitsubishi robot mounted with lubrication-fat dispensing system. (contact free system)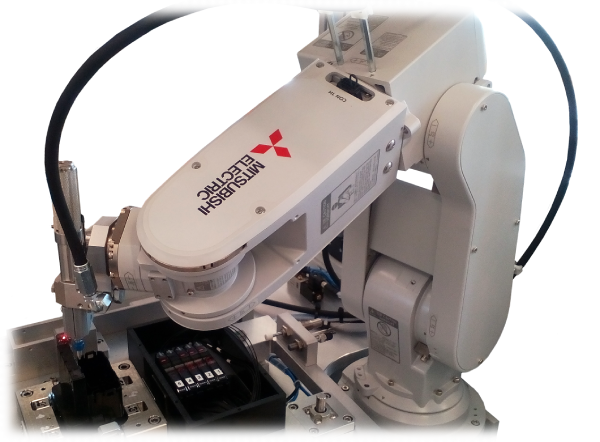 Glue dispensing robot
Station equipped by Motoman robot, mounted with glue mixing and dispensing system. (contact free system)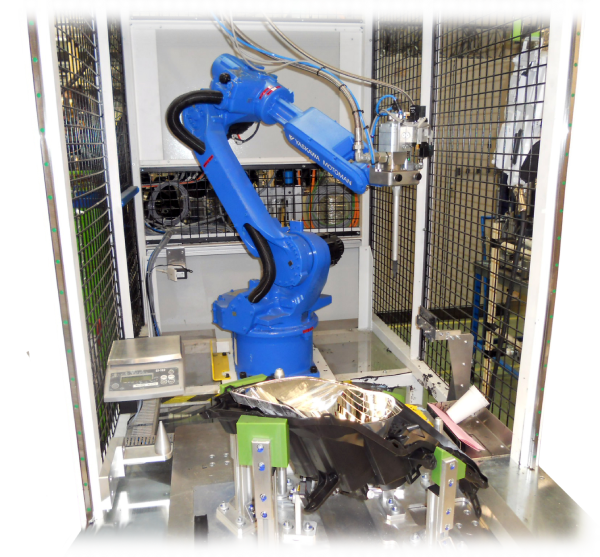 Pre-tester connecting units manipulator
Automatization of production line by palette contacting device.
Contact assembly is dual, placed on upper and lower linear guide of workstation by two contact-test units.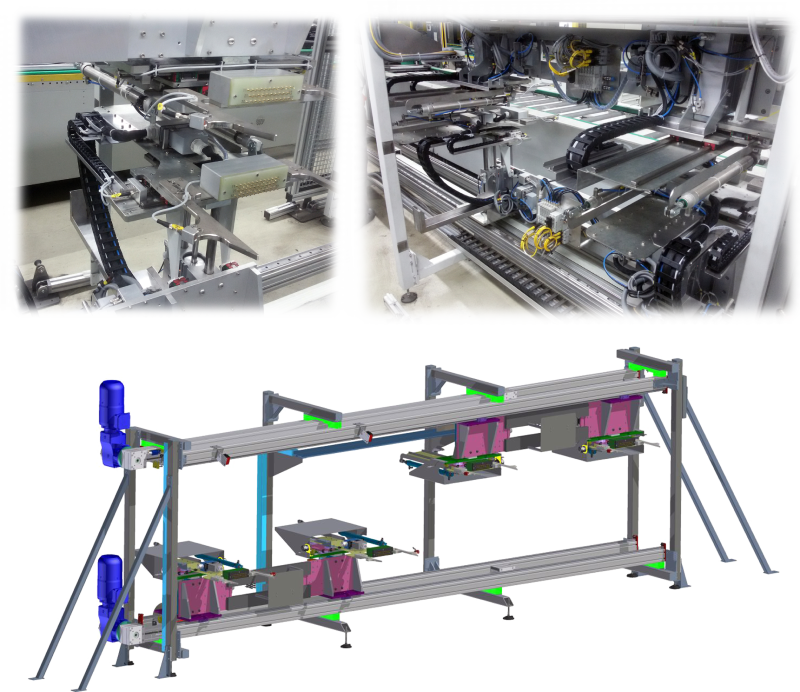 Production line assembled with conveyor system and a number of robotic workstations
The production line is connected by palette conveyor, mounted by 25 detachable palettes, camera controls, automated robotic crew fastening with automated screw feeding system, press device and traceability system.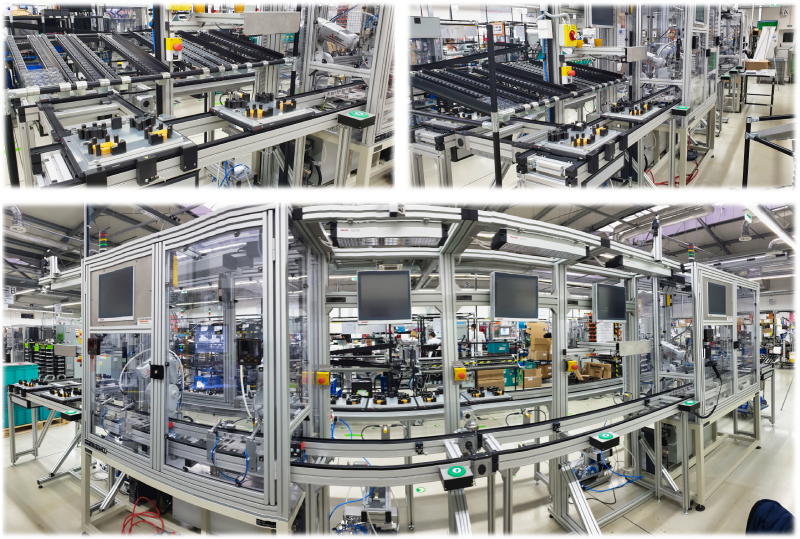 Seven-stages production line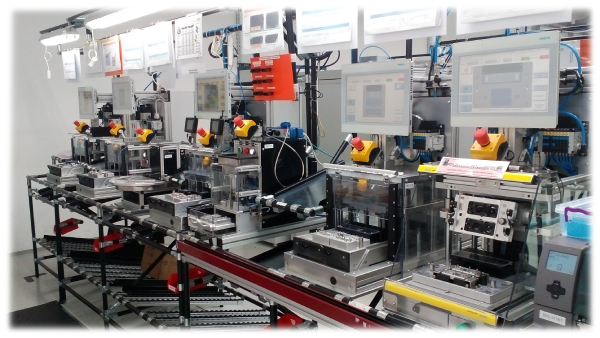 Mechanical systems for radio and E-call units tests
mechanics are designed for robotic manipulation
controlled by CoBot
equipped by draw-out "drawers", or minimum friction contour collator and space for hand of manipulator. (Cobot hand)
equipped by contacting and pneumatic linear guide motion.
contact units are split into groups, each group has got own driving mechanism
Products are pneumatically locked
pneumatic release and draw out after test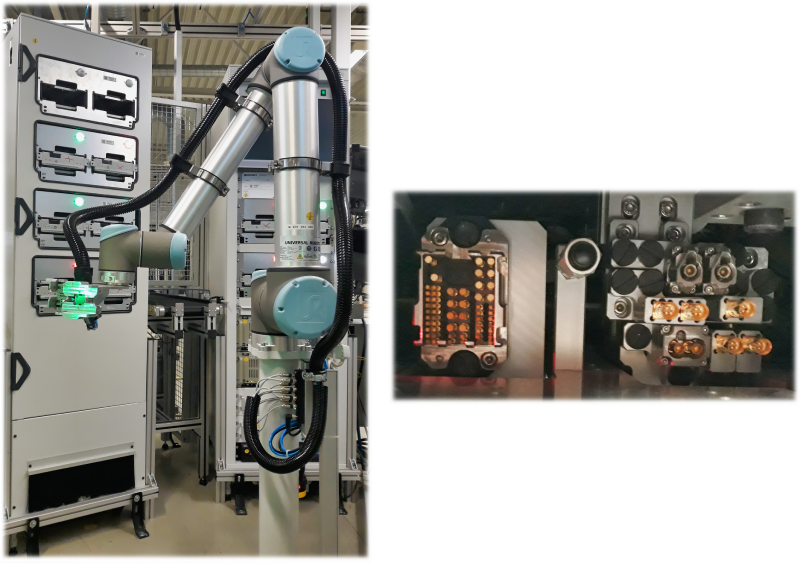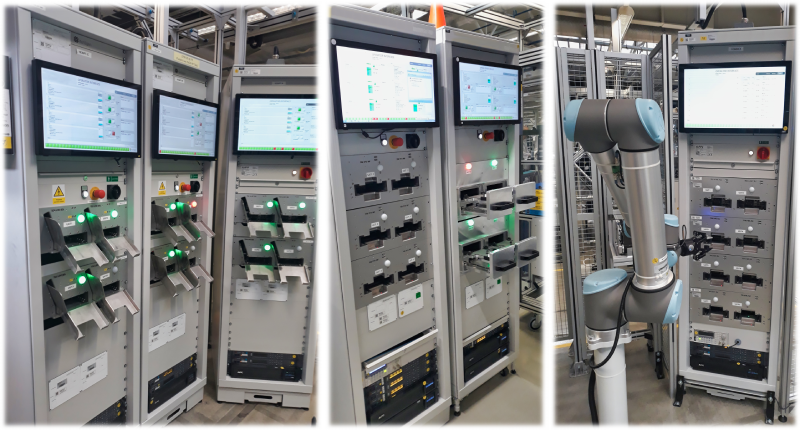 4-position carousel for assembly of safety units
robotic manipulation of incoming parts and complete parts
automatic application of heat conducting paste
cover assembly on the product
automatic screw fastening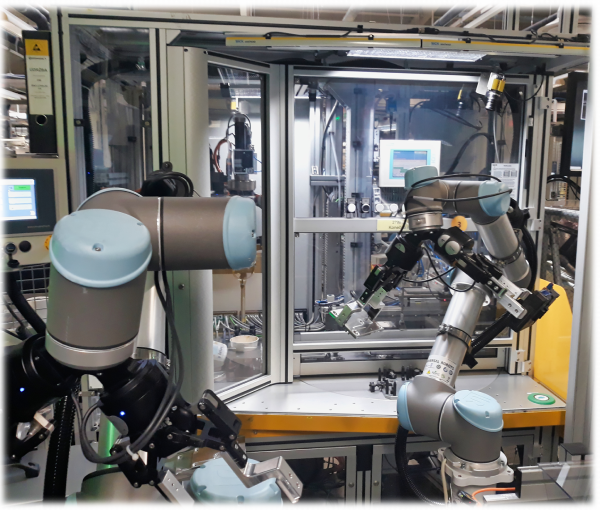 Detail DPS grab, done by robotic arm