Single or double component adhesives DELO
We offer wide selection of DELO adhesives for extensive use.
DELO DUALBOND ... cured adhesive within a couple of seconds (dual curing-light and chemical)
DELO PHOTOBOND ... single component acrylate curable by UV light (curing lamps DELOLUX)
DELO KATIOBOND ...single component epoxy adhesives cured by UV/Visible light
DELO MONOPOX ... single component, dielectric reactive adhesives-heat curing
DELO DUOPOX ... double component adhesives-cold cured
DELO PUR ... double component, polyurethane adhesive-cold cured
DELO GUM ... single and double component adhesives from silicone range-cured at room temperature
DELO ML ... single component methacrylates-cure when in an anaerobic environment if simultaneously exposed to metal ions.
DELO CA ... single component cyanocrylate-cold cured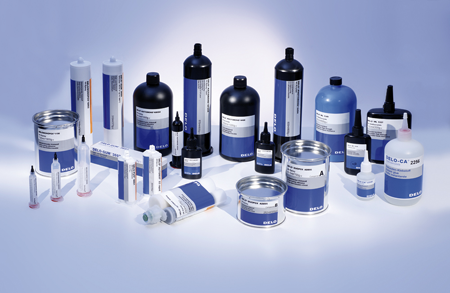 Safety data sheet (SDS or MSDS) is of course, part of delivery of DELO adhesive products.
DELOTHEN Cleaners and activators
The right preliminary treatment of glued surfaces affects the operating lifetime, strenght and tenacity of glued joints.
Fat, oil or wax contaminated surfaces should be cleaned by organic solvents. For each DELO adhesive we can suggest the appropriate cleaner or activator, which will guarantee dependability enhancement of glued joints.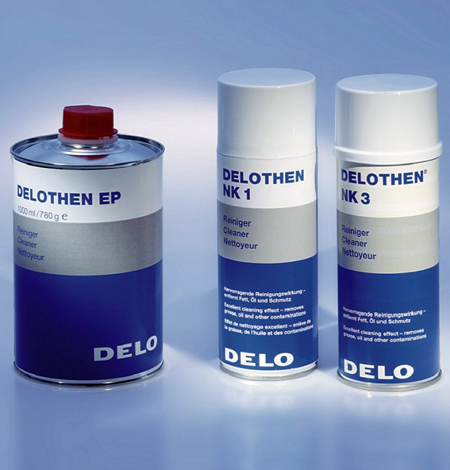 DELOLUX
DELO offers a range of industrial adhesives and LED curing lamps DELOLUX combined with Delo Unipro control unit.


To select the right product for your specific application, you can contact us at email adress obchod@technikpartner.cz or by any other email listed in contact section.